Restaurant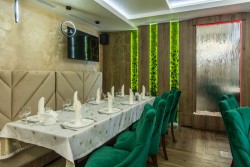 Some people don't visit restaurants on principle – they say that they like only dishes, which were carefully prepared by tender hands of their mothers or beloved wives at home. Such uncompromising admirers of healthy home food visited restaurant "On the Lake" – they were invited by friends on banquets, weddings or staff parties. And they degusted our dishes. And now they're our regular customers. They were pleasantly impressed by our home food, which and as they say: "obtained their hearts".
And thanks to dinners in our restaurant many women found a way to the hearts of their men.
And you should also try our delicious dishes.
Our wide menu is rich and appetizing. And when it's warm outside, you'll have possibility to have dinner in summerhouse or outdoor stage, which will bring you pleasant emotions.
In general "On the Lake" has 4 banquet halls with a seating capacity of up to 120, 30, 20 and 15 persons, what is convenient for everyday lunches, business lunches, as well as for gala banquets: parties, weddings, anniversaries, staff parties.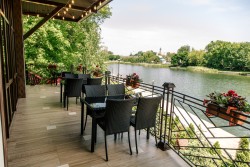 You'll also have possibility to enjoy live music. Our musicians don't have diplomas of music academy, but they feel real Ukrainian music with all their hearts.
Especially we recommend trying shashlik (slices of meat roasted on a spit) or fish barbeque. We can confidently say that in restaurant "On the Lake" shashlik and fish barbeque have special flavor and taste.
The secret is very simple – to every dish we add a little of our hearts love and respect to our guests.
Therefore, in the restaurant "On the lake" even a slog of bread with butter is unbelievably delicious.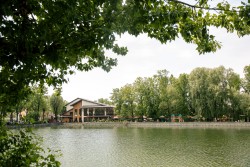 Натисніть ліву кнопку мишки та спрямуйте курсор у бажаному напрямку